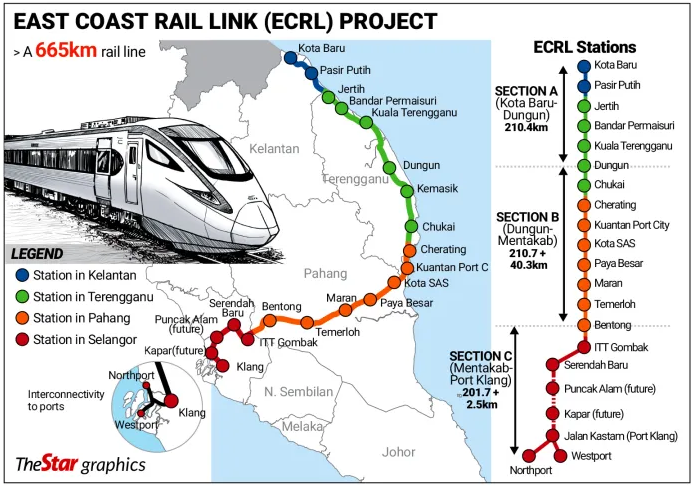 KUANTAN – The first rail installation for the East Coast Rail Link Project (ECRL) will be carried out later this year starting from the Gebeng, Kuantan route to Dungun, Terengganu.
Regional Construction Manager (Pahang) of Malaysia Rail Link Sdn Bhd (MRL), Khairi Khalid Abdul Rahman, said the works involved a 90 kilometer (km) long route and were expected to take three and a half to four months.
"The first rail track work started in Pahang. The installation work continues from Gebeng to Maran and is expected to start in April next year."
"The installation of the rail depends on the infra works. We expect the installation of a 1.5 km track per day for the Gebeng to Dungun route," he said.
He said this during the Aidilfitri Open House with ECRL in Kuantan today and celebrated 30 orphans from Permata Al-Kauthar Muqarrabin.
Also present, Pahang Menteri Besar Datuk Seri Wan Rosdy Wan Ismail.
According to him, the installation work started in Gebeng according to the project plan and the materials used included track installation machines from China that arrived at Kuantan Port.
In the same development, he said, the construction work of the ECRL project on the Pahang route is now at a level of 43 percent and he is confident that he will be able to complete the project in 2026.
"Until April 2023, this project has achieved 43 percent progress in Pahang compared to the overall project development of 43.5 percent.
"Progress in Pahang is very encouraging, although there is a slight slowdown during Covid-19. However, we are confident that it can be fully achieved by the end of 2026 and the expectation is to be able to operate on January 1, 2027," he explained.
ECRL is a 665 km long project that crosses four states namely Kelantan, Terengganu, Pahang and Selangor of which 231 km is located in the state of Pahang.